RealTrends 500 Designation – Strand Hill ranked as one of the elite performing brokerages in the industry.
Strand Hill RealTrends 2021 Accolades:
– Top 0.5% of All Brokerages in the US
– The Billionaires' Club
– Top 50 Firms – Average Price/Volume
– Top Independent Brokerages
– Top LeadingRE Affiliates
– Top Small Teams by Volume
Read More: RealTrends 500
LeadingRE Award Nomination – Strand Hill, the number one independent real estate brokerage house in the South Bay, today announced it has been nominated for a prestigious Member Achievement Award presented by Leading Real Estate Companies of the World®, an invitation-only global community of the more than 565 independent real estate firms worldwide.
Read Press Release : LeadingRE Awards Nomination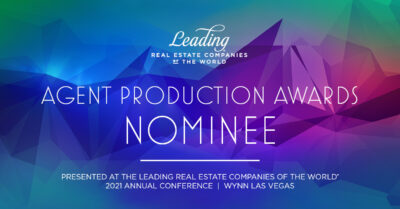 LeadingRE Marketing Award – Selected 3rd place for excellence in creativity, quality and overall presentation, Strand Hill took top honors for Referral Promotions in recognition of superior marketing relating to referral contests and programs. The category of Referral Promotions leads the industry in referrals and relocation, which generates over 30,000 client introductions each year.