Manhattan Beach, California – February 11, 2020 – Strand Hill in the news, Once Upon A Time Story in South Bay Magazine, featuring our super stars Dave & Jen Caskey on local real estate couple values friendships and community.
Once upon a time in the South Bay, Caskey met Caskey. They married, worked together, started a company, built a family and grew deep roots into the sandy South Bay soil. But let's not get too ahead of ourselves. Rather, let's go back to the beginning. Because this South Bay story actually began with Jen as a young girl growing up just blocks from where she works today.
As a child, Jen attended Robinson Elementary and Mira Costa High School. She also attended a real-life version of real estate school taught by her mother, who sold homes throughout Jen's childhood. To say real estate was in her blood would be an understatement. Mom encouraged daughter to get into the business. Daughter took Mom's advice and got her first job in 1991.
Jen met Dave at USC—a hop, skip and a 110 freeway away from the South Bay. Originally from Orange County, it was only natural that Dave would fall deeply in love with the South Bay lifestyle: the sun, the sea and, most importantly, the vibe created by a mixture of salty air and salt-of-the-earth people.
While pursuing his MBA at USC, Dave's general contracting business naturally translated into a successful real estate career. And for more than 30 years, that's been his focus. Dave and Jen founded Caskey & Caskey in 1991 and have since built a team of agents and support staff that are the reason why they are frequently named Top Producers by Strand Hill | Christie's International Real Estate.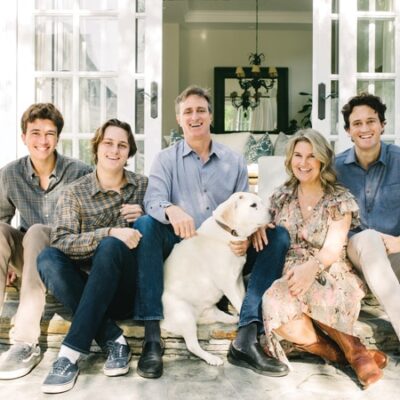 To Jen and Dave, being local isn't something that makes them more qualified or even better than other agents. Local is simply who they are, how they act and what drives them to do what they do. Local comes from a lifetime of living here and raising three boys here. It's never leaving … never wanting to leave. It's welcoming newcomers to the beachcomber way of life with open arms, a smile and a recommendation of where to grab a good drink with friends. (Fishing With Dynamite in Manhattan Beach, by the way).
Their commitment to the community goes well beyond love, respect and an intimate knowledge of every single business in town. In fact, Jen and Dave support more than 40 nonprofit organizations and events in the South Bay each year. They even have a baseball team … go Caskey & Caskey Sharks! To the Caskeys, giving back to the community that's given them their lives simply makes sense.
Click Here To View Full South Bay Magazine Article